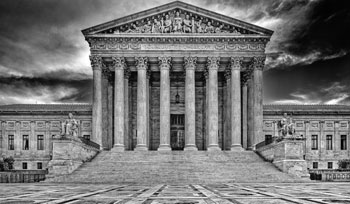 Alas poor Scalia, a divisive figure even in death. Condolences hadn't even stopped flowing when both parties started fighting over replacing him.
Confirming a Supreme Court Justice could take months in this hostile political climate, but there's ample time for the process to play out within Obama's second term. Which is just what Democrats insist should happen.
Republicans don't want this President making decisions about floral arrangements in the executive dining room in his last year of office, much less a lifetime appointment that would turn the Court's majority from rightward to leftward.
Democrats note that this is precisely the power (i.e., the Court not the flowers) the Constitution invests in the executive branch.
Who's right? How could that matter? Congress let Andrew Jackson make a Supreme Court appointment on his last day in office. Then, rather than let Andrew Johnson make any Supreme Court appointment at all, Congress simply eliminated two vacant positions. And then restored them after the man was gone.
Folks need to admit to themselves — and you do too — that Congress can, and will, do what it pleases. And thus gain the approval or, as has happened from time to time, suffer the consequences of public opinion. Sometimes they guess wrong.
The Supreme Court was established by the Constitution, but just about everything about it was left to Congress or its own whims. There are no official qualifications for being a Supreme Court Justice.
The Court's key role, that of evaluating the constitutionality of legislation ("judicial review"), it simply arrogated to itself via the fourth Chief Justice, John Marshall's ruling, arbitrary and unilateral, in Marbury v. Madison. Everybody else has just sort of gone along with it ever since. Nobody ever did know how to handle John Marshall.
The Judiciary Act of 1789 set the number of justices at six: a Chief Justice and five Associate Justices. In 1807, Congress increased the number to seven; in 1837, it was bumped up to nine; and in 1863, it rose to 10. In 1866, in the aforementioned high hard one at President Johnson's head, the Judicial Circuits Act reduced the number to seven. Three years later, the number was raised back to nine, and there it has stood ever since.
In 1937, in an effort to create a court more receptive to his New Deal programs, President Franklin Delano Roosevelt tried to persuade Congress to add a new justice for every current one over 70 who opted not to retire (putatively raising the number to a maximum of 15. Congress didn't go for it.
The Constitution spells out no age, citizenship or residency requirements for joining the High Court. Six justices have been foreign born; the most recent, Felix Frankfurter, native of Vienna. The youngest associate justice ever appointed was Joseph Story, 32 years old. Associate Justice Oliver Wendell Holmes Jr., who served from 1902 to 1932 and retired at age 90, was the oldest to sit on the Court.
Every justice has been a lawyer prior to joining the Court, but there's no requirement. During the 18th and 19th centuries, many lawyers got their training by studying under a mentor. Justice James Byrnes (1941-42) was the last without a law school degree. (Byrnes didn't graduate from high school either.)
Harvard has produced more members of the court than any other law school (with 20 justices who graduated or at least attended).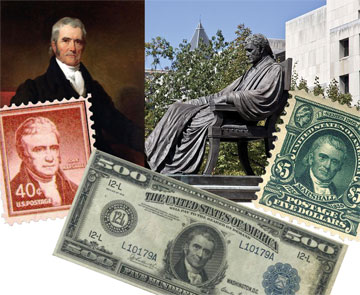 John Marshall, fourth Chief Justice of the United States and the true founder of the feast
Presidents William Henry Harrison, Zachary Taylor, Andrew Johnson, and Jimmy Carter were the only ones who didn't get to nominate a Supreme Court justice during their time in office. Of those, only Jimmy Carter served a full term in office without getting to make a nomination.
FDR placed eight on the High Court, plus he elevated one to Chief Justice. (FDR served three full terms as President and died early in his fourth. His successor, Harry Truman named three more justices — two during what would have been Roosevelt's fourth term.) Eisenhower named five. Jackson got six, and the all-time champ, Washington, named 11, but he had a unique advantage.
The current Republican bubble is owing primarily to Carter's bad luck and the twelve-year run of Republican presidents achieved by Reagan and GHW Bush. The advantage borne of successive presidencies is obvious.
A super-majority of 60 votes in the Senate is required to confirm or to reject a nominee. Once confirmed, a justice can be removed by retirement, resignation and Congressional impeachment and conviction. Only one justice has been impeached by the House (Samuel Chase, in 1805), and he was acquitted in the Senate.
Naming Supreme Court justices used to be a pretty pro-forma affair. The president used to throw out a name and Congress would go, yeah, yeah, yeah, or oyez oyez or whatever was fashionable at the time. That changed in the early 20th century. From Truman through Nixon justices were typically approved within one month. No more. Now it's a multi-month affair.
Some have opined that the Senate has evinced greater interest in confirmation hearings ever since discerning that nominees were starting to sport more pronounced political baggage. But this is Congress we're talking about. More likely their interest reflected their own atmosphere of increased polarization as much as anything else.
Republicans and Democrats have spent decades figuring out how not to get along with one another, and it's only reasonable they would get better at this with the passage of time.
The confirmation process now also gets considerable attention from special-interest groups that lobby senators to confirm or to reject a nominee, based on how his or her track record aligns with a group's goals.
Think NRA. Think of all the money lobbyists give to Congressmen.
Interestingly, Chief Justice John Roberts, who was a pretty straightforward affair as these things go, was grilled almost as long as Clarence Thomas, who was anything but.
In 1916, President Woodrow Wilson nominated William Brandeis to the Court. Brandeis was, in the words of Justice William O. Douglas, "a militant crusader for social justice." The opponents he'd long battled in courtrooms were invariably entrenched and moneyed interests. He took cases without accepting a fee, which him a reputation for incorruptibility. He was also the first Jew ever to be named to the Court.
Brandeis had written a series of articles for Harper's Weekly that suggested ways of curbing the power of large banks and money trusts. He also urged the Wilson administration to develop ways the Department of Justice might enforce antitrust laws more effectively.