Christine Keeler died in December, in case you missed it. Didn't get a lot of coverage. Understandable. These days what does other than the Trump White House?
But even under quieter circumstances,readers might not get excited over this bit of news. You'd need to have been born before 1950 to remember her. And those old enough to remember probably can't anyway or at least can't remember much.
And why should they? Be like Hamlet marveling at the actor emoting over the Queen of Troy's grief at her husband's death when the Dane prince himself is struggling to get worked up sufficiently to avenge his own father's murder? ("What's Hecuba to him, or he to Hecuba?")
The story of Christine Keeler has interesting parallels for our times and on a number of salient levels. There is this saying in French, Plus ca change, plus c'est la meme chose. "The more things change, the more they stay the same." Part of the charm of this fatalistic little epigram is that its elements can be directly transposed and it still seems to make a lot of sense. Plus c'est la meme chose, plus ca change.
What was known as "The Profumo Affair" offers interesting insights into what has changed in our lives over 50 years and what has not. And what probably never will.
At the height of the Cold War, Christine Keeler, a rather stunning looking nineteen-year-old, a cabaret dancer and aspiring model in London, got involved with a married government Cabinet minister who was twice her age and married.
John Dennis Profumo was the up-and-coming British politician—Harold Macmillan's Secretary of War—who in 1961 entered into a consensual sexual relationship with Keeler, which, uh, went viral. At first he tried denial, but the scandal eventually led to his resignation from the Conservative government, and finally Macmillan's resignation as prime minister, for "health reasons" in October 1963. The Conservatives lost the ensuing election to Labor's Harold Wilson, ending 13 years of unbroken Tory rule
So how did those two hook up in the first place. Easy? The Rooskies did it. Took sexual advantage of her to compromise him. Really. Well, maybe not really. But that was the story some papers were selling. And the people were buying. As is their wont.
A key figure in the Profumo debacle was Dr. Stephen Thomas Ward, a socially well-connected osteopath who took Keeler under his wing shortly after he met her in Murray's Cabaret in Soho, where she was cabaret dancing (i.e., toplessly).
Christine had come to the big city looking for excitement, adventure and the benefits of better social connections. Ward, who could provide all three, began to show her around.
At a pool party at Cliveden, the Buckinghamshire mansion owned by Lord Astor, Christine caught the eye of John Profumo, the 5th Baron Profumo and aforementioned political up-and-comer. How did she engage such an obviously busy man? She was the one swimming naked in Lord Astor's pool. Profumo, a bit of a libertine, as up-and-coming politicians can be, asked to be introduced. Ward obliged.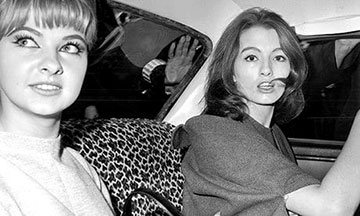 ---
"The last thing in speed." Keeler and Rice-Davies
In short order Profumo and Keeler took up an affair. She was young, innocent, stunning AND very active sexually speaking: a girl on the very cutting edge of the 60s. And this was only July of 1961.
As fate would have it, another set of eyes at the Cliveden party took note of Christine's breast stroke in the pool, and that was Yevgeny Ivanov, a naval attache at the Soviet Embassy. Ward was socially connected with him as well and was happy to make another introduction, with same inevitable result. Any friend of Ward's could apparently be a friend of Christine's, for whom "very active sexually speaking" also entailed a strong bias toward polygamy.
She took the geometry in her stride and managed it well, which is to say discretely as well as enthusiastically. Truth be told, there were others in the equation too. Which is actually what eventually brought the whole Profumo matter crashing down on the public consciousness.
The British intelligence agency MI5 already had their eyes on Ivanov, as they did any Russian diplomat in their country snooping around. This was during the Cold War and in addition to having more fun in London than they could in Moscow, then as now these guys had a job to do gathering intelligence for the Mother country.
Keeler and Profumo's affair was brief. Some suggest it ended after a few weeks, while others believe it continued, with decreasing fervor, until December 1961. It's generally believed MI5 did the math for Profumo and warned him off Keeler and the Ward crowd for his own good.
British Intelligence (MI5) knew Yevgeny Ivanov thanks to a Soviet double-agent named Oleg Penkovsky, and what they knew was that Ivanov was an intelligence officer in the GRU (Glavnoye Razvedyvatel'noye Upravleniye: Soviet military intelligence). Ward and Ivanov had become firm friends in London. Ivanov frequently visited Ward at his home at Wimpole Mews and sometimes joined weekend parties Ward hosted at the Cliveden cottage (which he rented from Lord Astor).
One story has it that MI5 considered Ivanov a possible defector, and sought Ward's help in turning him. Another take was that Ward might be complicit, aiding and abetting Ivanov in his espionage efforts, Many thought Ivanov was using the Keeler menage a trois to gain access to sensitive papers in Profumo's possession while the British politician was too distracted or besotted or just too stupid to realize what was going on.
Keeler herself was indifferent to politics.
Christine Keeler was born in Uxbridge, west London, on February 22, 1942. Her father deserted the family while she was still a child, and her mother later set up home with another man in a pair of converted railway carriages near Windsor. Christine was sexually abused as a teenager, both by her mother's lover and by his friends, who often employed her as a babysitter.
As soon as she was old enough, Christine headed off to the big city.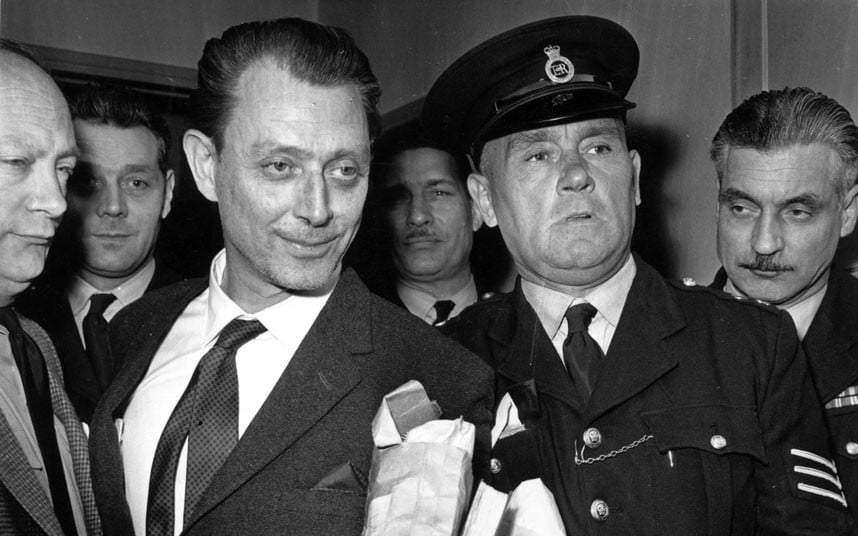 ---
The doctor is in. Stephen Thomas Ward: osteopath to the posh.
Whether or not Ward was a spy can be, and still is, debated by those with long memories and lasting interests. What he wasn't, was a pimp. But that's what he was accused of when the Profumo story broke out into the open. Even Christine seemed to be of two minds on the spy angle, telling different stories to different journalists at different times in her life. (For which she got paid.)
One thing Keeler was not, was a prostitute. At least not technically. She said she only took money for sex occasionally when she was really short of cash. Apparently her compensation for sexual favors was mainly the company she carried on with and the lifestyle she shared in. And, of course, the sex.
No, she did not have sex, paid or no, with Ward. That wasn't the basis of their relationship. It seems most likely they were, seriously, just good friends. And roommates. He put a roof over her head in London. He didn't take money from her. In fact he most likely contributed monetarily to helping her maintain her exciting new lifestyle.
He did the same for her fellow cabaret dancer and wide-eyed cosmopolitan ingenue, Mandy Rice-Davies, a fetching blonde originally from Wales with a sexual outlook profile that pretty much matched Christine's.
It was a firearms violation involving two other of Keeler's sexual partners, well after her relationship with Profumo, that brought the Keeler lifestyle into what Billy Joel termed "the white hot spotlight."
Two East Indians, a jazz singer by the name of Aloysius "Lucky" Gordon and an aspiring jazz promoter and accomplished petty thief, Johnny Edgecombe, were competing for Keeler's affections at the time, but were not so gifted with the same diplomatic skills, or taste for public probity, as Messrs. Profumo and Ivanov possessed. These guys bristled with mutual jealousies and recriminations, which led by turns to an ugly public quarrel with Keeler involving a gun.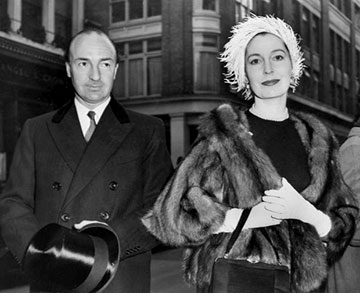 ---
John Profumo and the missus, a bit of a looker herself in her time.
At one point things had gotten a little too rough between Keeler and Gordon. Edgecombe stepped in as her protector and slashed Gordon's face with a knife. Then after Keeler ended her relationship with Edgecombe and he had a very angry Gordon on his tail, he showed up in December 1962 at Wimpole Mews where Keeler was visiting, and, failing to gain access, fired five shots at the building.
It made the news.
Edgecombe's arrest and trial brought Keeler some public attention. And as tends to happen in such situations, where the press, in pursuit of a hot story, is consumed with publishing all the news that fits, the more salacious the better, Christine's other, more sensitive assignations gradually leaked into public knowledge as well.