Following "complete and total exoneration" by the Mueller report, or at least the Cliffs Notes version thereof, President Trump appears to be feeling shiny as a newly minted dime.
The inner turmoil and vexation that had informed many recent public tweets and private lamentations? Washed thoroughly away by Barr's simple absolution.
"
It's never taken me 400
pages to say 'nothing happened.'
"
Former Federal Prosecutor Chuck Rosenburg's reaction to Attorney General Barr's four-page summation of the Mueller Report
The president shows renewed enthusiasm for revisiting many of his half-baked notions of the past. And is even coming up with some new ones. For the children at the southern border? Lock 'em up, or better yet, send them to San Francisco. For the military? More money, of course, but maybe some invasions. Venezuela maybe. Or Iran. For the worthless poor? Not a sou. Time to balance the budget.
He wants to unleash his Justice Department on his own courts to rid himself of the pesky health care legacy of his predecessor. With help from Senate Majority Leader Mitch McConnell, he's now cleared to put the kind of partisans and dolts on the federal bench and at the Federal Reserve that our country deserves and has for too long been denied.
Basically, Trump insists he aced the Russian investigation, as he always claimed he would — he now wants the FBI investigators themselves investigated for investigating him in the first place, and may just get his wish. And whatever his real grade was, he's pushing to make sure no one ever gets to see it, and he may even get that wish too.
As for his tax returns, well, fuggetabout it.
And the public has taken notice, and is impressed. Trump's monthly Gallup approval rating soared to 45%, an all-time high, after the Barr verdict. And his most effective tormentor in the public arena, lawyer Michael Avenati, has been indicted and is facing centuries in jail for extortion. How lucky can one boy be? Maybe Sun Tzu was right. "If you wait by the river long enough, the bodies of your enemies will float by." And Hillary's too if he gets really lucky.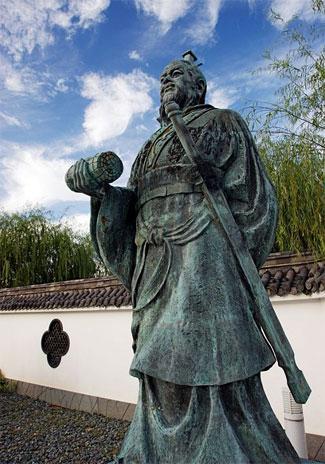 663highland, via Wikimedia Commons
Sun Tsu, 544–496 BC, author of The Art of War, an ancient Chinese military treatise. Although the quote might not really be his. Certainly, inconsistent with the spirit of the book, which might not really be his either. No matter, Trump hardly has time to wait anyway.
Trump's revivified spirit calls to mind the mild case of overconfidence George W. Bush fell prey to after his 2004 reelection. It was a tight 4-point win, but he read it as a landslide and a mandate as well. Bush said he'd earned political capital in the election and was intending to spend it. And spend he did, although not as he might have intended.
He decided the right place to start was with privatizing social security. He wanted to turn it into an investment club and made it his top domestic priority. No offense intended, but how like a rich kid to not know the difference between insurance and playing the market.
He pitched it hard in his 2005 State of the Union Address. He launched an initiative (directed by Karl Rove) to mobilize public support. Then he embarked on a series of touring events to try to sell privatizationn to the public, which at the time was pretty much evenly split on the idea.
The more he talked, the more the public mood soured. By Gallup's reckoning, public disapproval of the president's handling of Social Security grew by 16 points, from 48% to 64%, between the State of the Union address and June 2005.
Then came Katrina. The government's inept response to 2005's monster hurricane, at the time the costliest natural disaster in U.S. history, made President Bush look, to put it charitably, out of touch.
Ten days after Bush publicly praised FEMA head Michael Brown for his handling of the crisis ("Brownie, you're doing a heck of a job."), Brown resigned amid a public uproar over his qualifications (former Horse Association Commissioner) and the administration's failure to get very much actual aid of any kind into New Orleans. News outlets were broadcasting reports of bodies floating in the streets and pandemonium among some 30,000 refugees stranded in the Superdome without lights, food or air conditioning.
All the while, the Iraq War was looking increasingly like a bad idea in the face of mounting American causalities and a growing Iraqi insurgency.
Then came an untimely series of scandals and embarrassing news reports involving Republican politicians, which further undermined the Administration's support. In February 2006, vice president Dick Cheney accidentally shot Harry Whittington, a 78-year-old Texas attorney, in the face with a shotgun while on a quail hunt on a ranch in Texas. In late September a Republican congressman was forced to resign after accusations surfaced he was exchanging sexually suggestive e-mails and instant messages with teenaged boys who had formerly served as congressional pages.
The 2006 midterm elections were a disaster for President Bush and his party. They lost control of both houses of Congress and a majority of governorships across the nation. Bush's legislative agenda never recovered.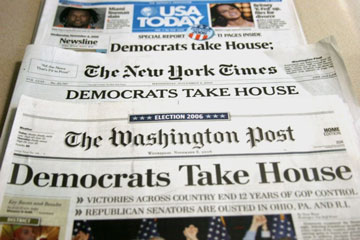 2006 mid-terms: end of the trail. For the first time since the creation of the Republican party in 1854, no Republican captured any House, Senate, or Gubernatorial seat previously held by a Democrat. Will history repeat itself? Or will Trump surprise again?
The hits kept on coming. In 2007, Vice President Cheney's former chief of staff, Lewis "Scooter" Libby was convicted of lying and obstructing justice in an investigation into who leaked the name of the former covert CIA operative Valerie Plame to the public.
Later that same month, it was revealed that the Justice Department had fired eight US attorneys, ostensibly for incompetence. Critics alleged that the real reason was to put more ideological Bush loyalists in place.
A 2008 investigation at the Department of the Interior revealed allegations of financial self-dealing and accepting gifts from energy companies. Female staffers were using cocaine and marijuana at industry functions and engaging in sexual misconduct with oil and gas company lobbyists.
Finally, of course, there was the financial meltdown in the summer of 2008. At the peak of his popularity, right after 9/11, Bush had the highest approval rating of any president in Gallup's history of recordkeeping. He left Washington in 2009 with an approval rating of 33%, one of the lowest.
A big difference between Bush and Trump is that the latter's sugar high is coming a year and a half before his second term even begins, assuming he gets one.
What kind of emerging trouble could this new burst of self-confidence be blinding him to? Several of his planned initiatives seem fraught with potential peril.
Stamping out Obamacare remains one of the president's primal urges. Health care is the issue many Republicans blame for their poor showing in the 2016 mid-terms, yet Trump seems determined to embroil them right back in it, still with no coherent alternative on offer. He is itching to take it on again, even though Mitch McConnell is loathe to scratch it.
The president remains convinced the border remains a winning issue for him, even though his actions to date seem to have done little but exacerbate the problem.
Moreover, it seems impossible to see how any solution to the growing numbers of asylum seekers from El Salvador, Guatemala, and Honduras can succeed that doesn't in some way address the deplorable living conditions in those countries. Which is a problem Washington has traditionally seemed shy about engaging with and has sometimes even worked at cross purposes to. ( See Harper's,"The Truce," May 2019. Access may be restricted.)