"
Give us a protective tariff and we will have the greatest nation on earth.
"
Abraham Lincoln, 1847
America has been a staunchly protectionist country for most of its history. Not just Lincoln, but before him Hamilton, Jefferson, the Adamses, both father and son: all championed protective tariffs.
Not to mention the Father of our Country. One of the very first bills Washington signed as President was a tariff: the Tariff Act of 1789.
Predictably, its stated purpose was to raise money for the new federal government, reduce Revolutionary War debt and protect the fledging country's fledgling industries from from foreign imports. And tea.
Most goods entering the U.S. were subjected to a 5% tariff (although there were cases where the rate would go as high as 50%). But on the whole, pretty modest stuff actually.
Still, tariffs generated the bulk of federal receipts up until 1913 when Congress passed its first federal income tax. In some years tariffs funded as much as 95% of the federal budget.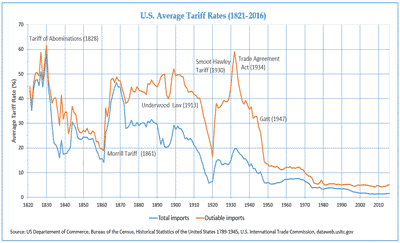 Tariff sentiments were not exactly homogeneous across the land. The (relatively) industrialized Northeast favored protective tariffs to bolster its competitive position versus Old World industrial importers. Southerners generally opposed tariffs because they were primarily consumers of European goods for their homes, farms and business.
Plus, the South, with an economy predominately agriculture-focused, didn't want anything to complicate its access to Europe's markets, which protectionism would surely do. Boiled down to its essence, Southerners were often inclined to see a tariff as a transfer mechanism that moved wealth geographically from south to north. And it rankled them. Can you sense where this is going?
In 1832 the so-called Tariff of Abominations created a constitutional crisis starring Andrew Jackson and South Carolina. Jackson's Vice President John C. Calhoun (S.C., Dem. - but Calhoun often served as a virtual party-independent who variously aligned as needed with Democrats and Whigs). Calhoun resigned his office and ran successfully for the Senate where he became a champion of Nullification, the contention that a state has the right to declare any federal law it considers unconstitutional to be null and void within its boundaries.
It became a crisis in that it gave rise to a powerful movement towards secession in the South—very nearly a civil war before the Civil War. Jackson dispatched federal troops to Charleston, and South Carolina in turn prepared to muster troops of its own.
Tensions were reduced at length through a Congressional compromise (Remember Henry Clay?), but residual hard feelings from this long-simmering dispute are generally considered to have contributed to the start of the real Civil War thirty years later. "Forget, Hell!"
Tariffs began to decline in importance after 1914 and the income tax, but ideological positions didn't change much until the Great Depression.
The Smoot-Hawley tariff of 1930 gave rise to tit-for-tat global trade barriers that deepened the depression, and by the middle of the decade the Roosevelt White House was working to undo the damage.
By the end of World War II, tariffs had lost favor in Washington. Republicans morphed into free marketers and joined Democrats in a commitment to low tariffs. Why? American companies had come to dominate the global economy. Ronald Reagan particularly reviled them
Protectionism lost favor as a useful tool for boosting growth, and things stayed that way until foreign competition once again started to creep into U.S. markets in the mid '70s. Remember the foreign car invasion? Remember when "made in Japan" evolved from a slur into a stamp of quality?
But tariffs have returned to Washington in fine style and high fashion under the Trump administration. Only this time to protect against fledgling industries (China's) and in response to that country's perceived abusive and predatory trade practices, many of which fall outside of international trade rules and contribute to America's trade deficit. These include stealing intellectual property, publicly subsidizing private enterprises and forcing trading partners to transfer proprietary technology to China as a price of doing business.
President Trump is fond of claiming that punitive tariffs have generated billions of dollars in new revenues for the U.S. Treasury, paid by China, but tariffs don't exactly work that way. Tariffs are taxes paid by U.S.-registered firms to U.S. customs when goods they order from outside the United States enter the country.
Customs duties have indeed been a windfall for Washington. According to the Congressional Budget Office, they grew by $29 billion (or 71%) in the last fiscal year primarily because of the new tariffs imposed on China. That income has helped counter revenue losses resulting from the 2017 tax cut (which triggered a $92 billion drop in corporate tax receipts in FY 2018).
U.S. Importers employ a mix of ways to spread tariff costs among suppliers and buyers, including accepting lower profit margins for themselves, cutting costs, wages and jobs, and, of course, raising prices to end-consumers.
Chinese suppliers may also choose to absorb some of the cost increase, for instance by giving discounts to U.S. importers in order to maintain contracts and market share. U.S. importers can also look for suppliers in other countries with more favorable US tariff rates, and growing numbers of companies are doing so. But in the end guess who pays the lion's share?
The scarier headlines project future costs to the consumer based on both actual and proposed tariff increases, and most of the latter will never actually be imposed. However, according to a report by JP Morgan Chase last August, Tariffs already imposed on China are estimated to be costing the average American household $600 per year. Other estimates broadly match up with this.


Still other estimates calculate the trade wars are trimming U.S. GDP growth by about quarter of a point. (E.g., The Tax Foundation estimates they reduce long-run GDP by 0.26%, wages by 0.16%, and employment by 198,700 full-time equivalent jobs.)
Is it all worth it? Time will tell. But The Washington Post point out that compared to every other advanced economy, the United States is actually fairly well insulated from trade. We import 15% of our GDP and export 12%. Good numbers for a rich country.
The final story will be told more likely by historians than economists. Certainly not by politicians. You could start here with a column penned a little while back by James Stewart on the mother of all trade wars. "What History Has to Say About the 'Winners' in Trade Wars" appeared in Stewart's "Common Sense" column in The New York Times in March 2018.
Stewart is a highly seasoned journalist and author of a barrel of acclaimed books on the American business and political scene including "Den of Thieves," on the 1987 stock market crash and "Blood Sport: The President and His Adversaries," on the Clintons and Whitewater.
It's a column you should read. It's not too long, it's a very thorough survey, and it could make you a better person. One better prepared for the times that may be coming. Click here.