T
he autumnal equinox, at 2:20 pm Central Time, Wednesday, September 22, marks one of two moments in the year when the sun is exactly above the equator making day and night of equal length. It also marks the last day of the summer of 2021. The summer in which our lives were to return, finally, to something at least approximating what we look back on as normal.
And so it seemed it might for a brief moment, but now we can see that was just another dream turned to dust. The clouds of discontent that were gathered threateningly above our heads at the time of last spring's vernal equinox are still there.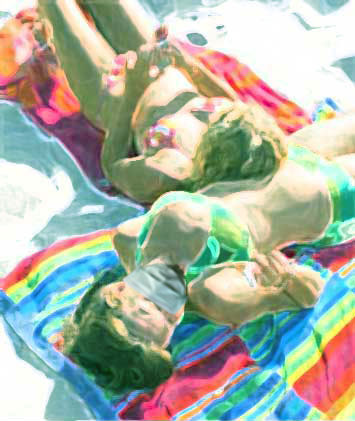 Discontent and enmity still abound, one half of the populace, or else the other, is wedded to insidious lies, the heart of our democracy itself is imperiled, and once again we're back to wearing these stupid masks every time we step out the front door.
Our world seems divided between those who are just dying to get vaccinated and those willing to die for their disbeliefs, and yet wise men, doctors and scientists are publicly repudiated and the public turns for truth to social media outlets and the posts of authors we surely know we're smarter than.
What to do?
The rock group Boston gave us the answer many years ago. "I woke up this morning and the sun was gone / Turned on some music to start my day / I lost myself in a familiar song / Closed my eyes and I slipped away…. "
It was for such times as this that the "Summer Song Jukebox" was conceived. For us to lose ourselves in, exchanging brief moments of bitter sadness for ones of sweet melancholy. Not much of an exchange but the memories are good: idyllic recollections of summers past triggered by old familiar songs that were the bookends of the years of our youth.
To help you get started, this listening guide was retrieved from a 2016 Labor Day post.
Suggested Six Sad-Song Starter Set:
The Lonely Surfer, Jack Nitzsche (1963)
Summer Song, Chad and Jeremy (1964)
The Things We Did Last Summer, Jo Stafford (1946)
The Girls in Their Summer Dresses, Harry Belafonte (1966)
4th of July, Asbury Park (Sandy), Bruce Springsteen (1973)
Summer Of '69, Bryan Adams (1984)
Suggested Six Happy-Song Antidote Set:
Here Comes Summer, Jerry Keller (1959)
Palisades Park, Freddy Cannon (1962)
Hot Fun in the Summertime, Sly & the Family Stone (1969)
Under the Boardwalk, The Drifters (1964)
Summer, War (1976)
All Summer Long, Kid Rock (2008)
But by all means, do what you feel. (Summer Song Jukebox link.)
The Summer Song Jukebox made its debut 21 years ago, if memory serves. Like everything else, it'a growing old. I can barely remember making it now. I don't even think about it much anymore, just as we don't revisit the memories of our past summers as readily,
and the lives and loves from those callow years grow steadily smaller and dimmer as the time passes.
But the songs and the sentiments are still there. Just waiting for you.
When I'm tired and thinking cold,
I hide in my music and forget the day,
And dream of a girl that I used to know.
I closed my eyes and she slipped away.
Boston: "More Than of Feeling" (1976)
---