New Year's without Dick Clark ...
if you can imagine that.
A generation of Americans has grown up incapable of conceiving what the telephone was like before voice mail or what New Year's Eve was like without Dick Clark.
"Dick Clark's New Year's Rockin' Eve" has been helping us greet the New Year properly since 1973. The first show aired on NBC and featured Three Dog Night with other guests including Blood, Sweat & Tears, Helen Reddy and Al Green. (Actually, Clark hosted one earlier New Year's Eve Special, on December 31, 1959, on ABC with Frankie Avalon as a guest star.)
In 1974 the show moved to ABC, which had been the home of "Dick Clark's American Bandstand" for so many years, and there it has remained. So Dick Clark has pretty much been ushering in the New Year non-stop now for three and a half decades.
What would we do without him? What did we do without him?
A hint at the answer to that can be found right in the middle of the show each year when at the stroke of midnight the familiar and bittersweet strains of "Auld Lang Syne" waft over the Times Square crowd.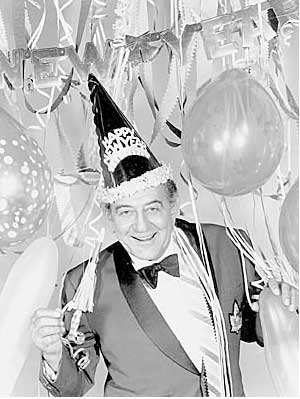 Lately the melody is quickly drowned out by Old Blue Eyes's rendition of "New York New York," a ditty Mayor Bloomberg may like but that rightfully belongs not in Times Square on New Year's Eve nor at Belmont Park in June but at Yankee Stadium, in the fall. Amazingly, after all these years, TV producers still have a tin ear.
The sixteen bars of Auld Lang Syne played in Times Square are the arrangement popularized by Guy Lombardo. Before there was a Dick Clark, Lombardo was Mr. New Year's Eve. Right up until his death in 1975, his New Year's Eve specials, on TV and before that radio were the country's overwhelming choice for ringing out the old and ringing in the new. Bandleader Lombardo and his "Royal Canadians" played dance tunes billed as "The Sweetest Music This Side of Heaven." They held court for 48 straight New Year's Eves, first at the Roosevelt Hotel Grill Room and later The Grand Ballroom of the Waldorf Astoria Hotel, entertaining well-heeled party-goers who favored tuxedos, noise-makers, party hats and dancing arm-in-arm.