Happy New Year! Roll the Film.
W
hat are you doing for New Year's?
Some 10% of people just want to get cozy with a good movie. (About the same percent as want to spend it in a bar.) And if you're one of the former but also demand contextual relevance in your viewing entertainment, don't worry. Hollywood's probably has already done the film that's just what you're looking for.
From the film industry's beginnings, ringing in the New Year has proved a very popular backdrop with the people making movies.
Charlie Chaplin's silent masterpiece, The Gold Rush, released in 1925, was centered around a New Year's Eve dinner between the Little Tramp and Georgia, the dance hall girl of his dreams (Georgia Hale).
Since then, over 100 movies, many of them sizable box office hits, have featured a New Year's setting. Like these:
After the Thin Man (1936), Myrna Loy and William Powell's first sequel to what would become their own cottage industry;
I'll Be Seeing You (1944), starring Joseph Cotten, Ginger Rogers, Shirley Temple, Spring Byington, Tom Tully, and John Derek;
Trading Places (1983) with Eddie Murphy Dan Aykroyd, Jamie Lee Curtis, Ralph Bellamy, Don Ameche, Jim Belushi and future U.S. Senator Al Franken;
Ghostbusters II (1989), Aykroyd again, flanked by Bill Murray and Harold Ramis plus Sigourney Weaver, Annie Potts and Rick Moranis),
The Poseidon Adventure (1960) starring Shelley Winters and most of her friends);
Woody Allen's Radio Days (1987) with Mia Farrow, Dianne Wiest, Mike Starr, Don Pardo and Wallace Shawn.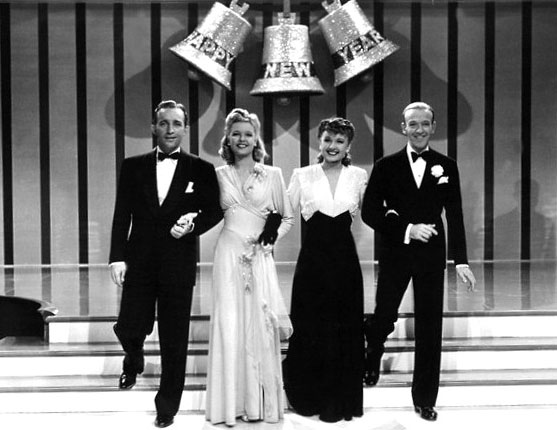 These movies are not all necessarily about New Year's per se. They're New Year's movies in the same way Die Hard is a Christmas movie.
But there are more than a few where the temporal aspect is indeed dispositive to the story line in some way. Even as the directors go about doing what Hollywood does best: making you cry, breaking you up, breaking your heart, weirding you out or just scaring the hell out of you.
Some New Year's movies go even further, playing up the central themes relating to ringing out the old and ringing in the new. Those same themes fastened on by serious dramatists and poets: attachment to old friends and traditions, rebirth and renewal, and high hopes for the future.
Filmmakers inclined toward the sinister and the dark enjoy contrasting the desperation of the human psyche with the Pollyannaish, ephemeral hope for rebirth and renewal, and not in a nice way. Like Little Caesar (1931), The Godfather Part II (1974) or Looking for Mr. Goodbar (1977). And every now and then one will come along who plays it both ways. Think of the New Year's Eve scenes in Forest Gump, nihilistic and at the same time pregnant with fore-ordained promise and potential.
And then there's Boogie Nights (1997). Burt Reynolds, Mark Wahlberg, Julianne Moore, and William H. Macy, as a cameraman heartbroken because his wife won't stop cheating on him, tell a convincing story of the emotional turmoil of the porn industry.
The idea is the movie's 1979 New Year's Eve party scene marks the end of an era. Whatever deep, unexplored crevices in your personal profile this strokes, it is, in point of fact, actually a pretty good movie. Just the same, don't show it to your mother.
When Harry Met Sally (1989) is a New Year's movie with a deeply romantic, quintessentially New Year's- look-and-feel message. Here's Billy Crystal racing down a Manhattan street to reach, he finally realizes, his one true soul mate, Meg Ryan, before she bails, dissatisfied and alone, on the New Year's Eve party she didn't want to go to.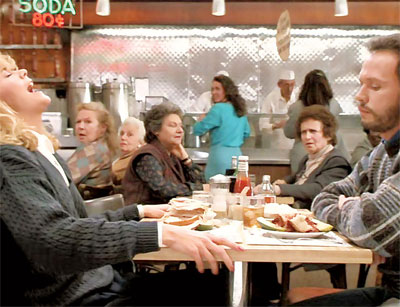 Poor Sally doesn't yet realize she's his soul mate either; at that precise moment Harry's the last person she wants to run into. Chrystal's killer pu line turns it around. "Because when you realize you want to spend the rest of your life with somebody, you want the rest of your life to start as soon as possible."
Also featuring the late Bruno Kirby and the recently late Carrie Fisher. May the Force be with you guys.