H
ey, kids! What more proof could you want that actions have absolutely no consequences anymore? Donald Trump has been President for ten months now, and virtually nothing has changed. The sun comes up every morning, people get out of bed and go to work every day. And more of them than before. Unemployment is down to 4.2%.
The stock market is at an all-time high, and the bull market is now 32 months old. (Strangely, Trump insists on taking credit for all 32 months.) Non-farm employment declined by 36,000 in September, breaking a skein of 36 straight months of job gains, but it's hard to blame El Donaldo. It was mostly due to disasters of a different sort, namely hurricanes that cost about 100,000 fast food workers a paycheck in the particular September pay-period in which the Bureau of Labor Statistics did their employment survey.
Halloween continues to look more and more like New Year's Eve, just in drag. Evil clown masks are expected to be top sellers this Halloween, but most likely no political message there … clowns are everywhere these days.
Congress seems disinclined to pass any major legislation—how like them—but Citibank, when I toiled there in the 90s, always regarded that as a positive thing. They believed our elected officials, on both sides of the aisle, were incapable of doing anything good and it's best if they just be allowed to cancel each other out.
But Republicans do seem united in their desire to pass "major tax reform" this year. Actually, major tax reform is needed, but what they really seem to want is just a major tax cut for their major friends. Somewhere around a $5.8 trillion cut, principally in corporate taxes and taxes on high income earners (measured over 10 years).
They feel the former is needed, and as to the latter, well, their donors are demanding it. You may be called on to pay for some of this. The rest they'll just add to the deficit. I.e., they'll finance it by adding it to the national debt, America's credit card.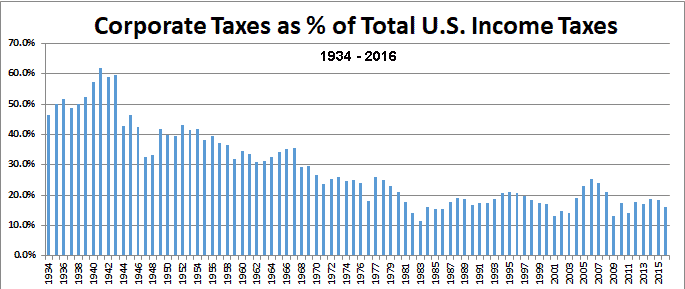 Steven Mnuchin, Trump's Treasury Secretary, along with many Republican legislators, is pretty sure tax cuts will pay for themselves by creating stronger growth and more jobs, thus expanding the tax base enough to offset the tax cuts. People inclined to buy into this thinking are encouraged to familiarize themselves with recent history in the state of Kansas. There's really not much precedent for that kind of outcome.
Generally, academic and economic opinion is that tax cuts could pay for about 15% to 30% of their costs through increased growth. The specifics of the Republican inchoate desire are kind of sketchy, so it's difficult at this point for the CBO, or anyone else, to score the likely effects. But, for example, $1 trillion in financed cuts, with no spending reductions or other offsets would likely add about $700 billion to the deficit. Effectively doubling it. (Again, over 10 years.)
That's about what they found out in Kansas.
The administration does think it can offset some of the cost by putting limits on tax-free 401k contributions and deductions like health care or the mortgage tax credit, by driving middle class taxpayers into higher brackets and via other leger de main. See, that's where you come in; someone's got to pay after all.
Right now, corporate tax remittances are near an all-time low, and there's never been greater disparity between the income of the one-tenth of the top 1% of individual earners and everybody else, but no matter. This shaky crop of majority legislators just wants a win, and they're thinking maybe this could be it. La vie me demande ca. C'est la guerre. Ah, those Frenchies: so philosophical.)
It is no sure bet that Congress can actually get its arms around this tax cut thing and wrestle it to the ground before the clock runs out on this year's legislative session. They could again prove more united in principle than practice. They really haven't been able to pass anything, and this one is really hard.
Uncoincidentally, consumers' confidence has flattened out since the election after climbing to its highest level in nearly a decade in 2016. Strangely, it spiked the most between Oct. 1 and Election Day last year. Most noteworthy, their future expectations for the economy are in sharp decline. (All this courtesy of Gallup.) So it looks a little like, eat, drink and be merry for tomorrow we die. But you already knew this, didn't you.
Just the same, folks seem ready to get their party on bigly this Halloween, according to the National Retail Federation's annual survey. (They reach the same conclusion every year, but it's probably true.)
🎃 More than 179 million Americans say they plan to celebrate Halloween this year, spending an average $86.13, up $3.20 from last year.
🎃 Total spending is expected to reach $9.1 billion, an all-time high. (That math doesn't add up; Irrational exuberance, no doubt.)
🎃 Only 12.9 percent say their spending will be impacted by the economy, down from 14.1 percent last year and a peak of 32.1 percent in 2011.
🎃 Celebrants plan to spend $3.4 billion on costumes, $2.7 billion on candy, $2.7 billion on decorations and $410 million on greeting cards.
🎃 Record numbers of adults (48 percent) plan to dress in costume this year: 5.8 million adults plan to dress like a witch, 3.2 million as their favorite Batman character, 3 million as an animal (cat, dog, cow, etc.), and 2.8 million as a pirate. (Reminds me of the crowd on my old commuter train to NYC.)
So have fun tonight, you guys. And don't be afraid to take some risks. Apparently we're all living in Groundhog Day now. Just try not to fall in love. It might break the spell. (I realize this is coming a little late for you, Sarah, but I just learned it myself.)
Love,
Dad