A
particularly scary Halloween has its cold, slimy hooks into us this year — mid-term-elections-level scary. (Maybe even more so; That Donald Trump is no Mr. Rogers in our neighborhood.)
Last year, we noted here The Donald had been President for ten months and virtually nothing had changed. We can now safely superannuate that early observation. It's hard to believe there is anyone still unattuned to the difference. You'll notice a lot more fright wigs on the street this year, many on people not even in costume.
The mid-terms are the thing that will either deliver us from this hell we're living or else seal our doom, depending on which person in a fright wig you ask.
The stock market, which our President thinks IS the economy, is still chugging along in bull-like fashion, although more erratically this year. A little jittery. Old timers on the street would call it a "yo-yo" market.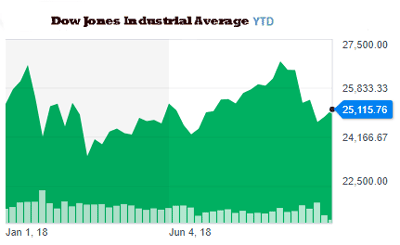 It goes up, it goes down, it goes up, it goes down. Nobody knows why the fuck it happens." (Lewis Black.)
The unemployment rate is down to a 30-year low, while employment is still climbing, albeit less robustly so. But most workers aren't feeling the love. The money seems to be going to someone else. Private sector wages have risen 2% year to date.
GDP topped 4% in the second quarter, which the White House thought could be the start of something big (and enduring), but it dropped back to 3.5% in the third quarter and may well drop again in the fourth. The Economist continues to project full-year GDP growth 2.9%. Not too shabby but far from the stuff of the President's rhapsodic dreams.
The Trump Administration might get more fulsome credit for the economic status quo if the President didn't work so hard to overstate his accomplishments and do so much that makes investors, exporters, importers, manufacturers, food chain enterprises, wage earners and everyone in general apprehensive. Like picking fights with the Federal Reserve, vilifying the press and his own Justice Department, creating conflicts with major trading partners and then trying to take credit for ending them.
And then there's the wall. And breaking up families who show up at our borders yearning to be free. Kissing up to Putin, Kim et al. And generally making a public fool of himself.
The Economist, at least, finds merit in the drift of the President's foreign policy, record. They see renegotiated trade pacts, pushback against China's scofflaw approach to commercial and military relations and Europe's historically lackadaisical approach to military preparedness, and his hard-nosed style in dealing with allies like Afghanistan, Iraq and Pakistan.
The columnist "Lexington" says the possible outcomes of Trump's admittedly disruptive style could be better than expected. Faint praise, perhaps, but the correspondent points to what Trump's foreign policy supporters argue: "that with naivety comes audacity, with chaos unpredictability, with cynicism realpolitik, and ... these are qualities a somnambulant superpower lacked in its dealings with the world." Yet Lexington still concedes, "It is not hard to see how Mr. Trump could make a mess of this."
Finally, Steven Mnuchin, Trump's Treasury Secretary, along with many Republican legislators and other supporters, seemed pretty sure 2017's much vaunted tax reform plan would pay for itself and then some, with stronger growth, more jobs and bigger paydays. So far it still looks more like a lavish giveaway to corporations and fat cats, which is what everyone else thought it was all along. The federal deficit grew 17% in FY 2018 (now at $800 billion), and corporate tax remittances dropped by 31%.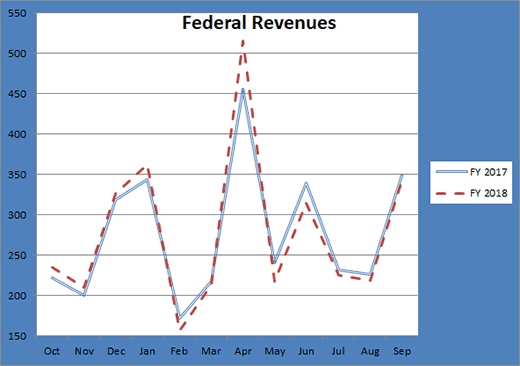 Republicans were quick to absolve the tax cuts of any blame for the swelling deficit, pointing out that, year-over-year, revenues didn't drop; they were flat. But that's only half a story. Month over month, revenues were actually higher in FY '18 ... until the tax cuts kicked in (Feb.). Then they trailed FY '17 in the succeeding months. The exception being April, where remittances were exceedingly high (it really has been good economic times). It's important to remember, though, those were last year's taxes paid at last year's tax rates.
No question tax revenues are trailing down and will continue to do so, under the new rates. That's what happens when either you or the government gets a pay cut. And for the government, that's what a tax cut is.
But consumer confidence remains upbeat, climbing steadily all year. The index is now at its highest level since October 2000. Whatever the future may bring, the general public doesn't expect to see any downturn in buiness conditions over the next six months.
The general public certainly isn't upset enough with the national drift to forgo partying this Halloween, as the National Retail Federation's annual survey attests. (Actually they reach the same conclusion every year, but it's probably true this time.) People may not be making as much as they'd like, but they don't see that the current administration is hurting their pocketbook in any significant way. At this time.
🎃 More than 175 million Americans (down slightly from last year) say they plan to celebrate Halloween this year, spending some $9 billion in the process (also down slightly).
🎃 70 percent plan to hand out candy, 50 percent will decorate their home or yard, 48 percent will wear costumes, 45 percent will carve a pumpkin, 32 percent will throw or attend a party, 30 percent will take their children trick-or-treating, 21 percent will visit a haunted house and 18 percent will dress pets in costumes.
🎃 31.3 million Americans plan to dress their pets in costumes, and millennials (25-34) are the ones most likely to do so, the highest figure in the history of the survey.
🎃 More than 3.8 million children plan to dress as their favorite princess character, 2.5 million as their favorite superhero, 2.2 million as Batman characters, 1.9 million as their favorite Star Wars characters, and another 1.9 million will dress as a witch. No political masks, it seems, in mid-year elections.
🎃 Forty-percent of adult celebrants plan to dress in costume. More than 7.2 million adults plan to dress like a witch, 2.5 million as a vampire, 2.1 million as a zombie, 1.9 million as a pirate, 1.3 million as their favorite Avengers character such as Iron Man or Black Panther. Interesting contrast with the kids.
This country isn't just polarized; it's screwed up. Let's let the kids and pets vote. Have fun tonight, you guys. Just remember there will apparently be plenty of crazies out there. And increasing numbers of them are well-armed. Don't you forget to vote.
Love,
Dad