W
ell, President Trump's anti-adhesive veneer shows signs of wearing thin. Took long enough. Astonishingly, one area where Americans still give him top marks is in handling the economy.
Jeez, it's just a good thing the guy's not a school bus driver.
The tariff wars have been a disaster. Employment growth is slowing in the heartland and in manufacturing and retail. The deficit is back near a trillion dollars, a height last scaled in the 2008 derivatives meltdown. Remember that? When George Bush's approval rating sank to the mid 30s? How can one build such a huge deficit in the tail wind of steady economic growth? Maybe if you just give money away to the rich. Anyway, people still haven't caught on completely to Trump. That finance is just one more aspect of governance where he has little real knowledge and little real interest.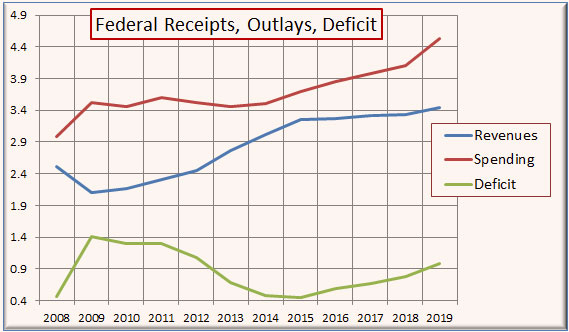 Whatever became of fiscal conservatism, deficit hawks et al? Suddenly scaredy cat got their tongues?
There's talk of a recession. Like Bill Murray's blizzard in "Groundhog Day," it may push off to the east and all we'll get is a few flurries, but as Bill Murray found out, you never know.
There's still sufficient feel-good economic news around. GDP is still growing, even if much slower than the president might think (1.9% in the 3rd qtr.). Unemployment is at 3.5%. Wages are—or were—growing at their fastest rate in a decade. And Trump never shies away from taking full-throated personal credit for all of this.
But it's just as true to say that wages are where they were 45 years ago or that wages are at a 60-year low. All three claims about wages could be correct, depending on what measure is used to justify it. (See Factcheck.org: Are Wages Rising or Flat?) And it's also true that driving a truck is the most common job in 29 out of 50 states.
Statistics, the third class of lie.
Industrial production—a gauge of U.S. factory output at mines, utilities and manufacturing companies—fell 0.4% in September. It would be hard to lay all the blame for that, or any of the above, on this president. Now comprising roughly 12% of GDP, manufacturing has been shrinking for decades, the result of globalization, automation and the rise of low-wage third-world manufacturing centers (not just China). Manufacturing sector employment has also been steadily shrinking. Less than 10% of Americans are employed in manufacturing, versus 25% in the early 1970s. Mining? Fuggetaboutit.
But who cares, really, about job losses or wage losses in this family just now. We've had our own loss. And recovery, what there is of it to be had, seems far off. Miss you, Sugarpuss.
Most people right now can't conceive much of any distress but their own. And they won't until it becomes crystal clear to them. Which is to say right on top of them. So at least there's nothing on the near horizon to disrupt the traditional slide into the Halloween partying that signals the advent of the cold weather holidays, thls opening kick-off of fall frivolity that adults seem to have stolen away from their kiddies.
🎃 172 million Americans(68 percent of respondents) plan to celebrate Halloween this year, spending some $8.8 billion in the process, according to The National Retail Federation's annual Halloween survey. Pretty much in line with previous years' projections.
🎃 69 percent plan to hand out candy, 49 percent will decorate their home or yard, 47 percent will dress in costumes, 44 percent will carve a pumpkin, 32 percent will throw or attend a party, 29 percent will take their children trick-or-treating and 17 percent will dress pets in costumes.
🎃 More than 3.1 million children plan to dress as their favorite princess character, 2.4 million as their favorite superhero, 2 million as Spider Man, 1.5 million as some other Avengers character and 1.4 million as Batman. No political masks. That's for next year.
See you in the bars, guys. And even if we shouldn't meet up, have yourselves a Happy Halloween whomever you're with. Your mother would have wanted it that way.
Love,
Dad