M
any people think Halloween is just that time of year when the kids fill the streets and the Budweiser goes on sale. But it's really so much more. In the U.S. at least, when God wants to take the temperature of our national mood, Halloween is where he sticks the thermometer.
And what he's learning this year is that we're mad as hell and not going to take it anymore. The world may still be in the suffocating grip of a deadly worldwide pandemic, with nearly 5 million dead, but America is rearing up to strike back. Our way of doing that is by acting in ways that ignore our own best interests and spending a whole lot of money.
Masks are for kids, except in school, to hell with social distancing, to hell with vaccinations. Fauci is a malevolently crazed and, at the same time, witless tool secretly on the payroll of big pharma. We're taking horse deworming medicine and demanding vaccine only when we're already deathly ill. And, failing in that, we want monoclonal antibodies, the cost of which is about $2,100 per pop, or "jab" as they like to say. (A dose of COVID-19 vaccine costs about $20.)
This Halloween we're fixing to spend an all-time record $10.14 billion on candy, costumes, decorations and party favors to take our collective mind off our troubles and, as Billy Joel put it, forget about life for a while. That ought to fix it. Enough already!
The National Retail Federation's annual survey (conducted by Prosper Insights & Analytics) predicts Halloween spending this year will be up a whopping 26% from last year.
Well, Lord knows, we have the money, or at least appear to think we do. How could that be, you ask? Has not this year so far given us such a miserable economic, not to mention medical, working over? Ah, but while the latter was certainly true (even though from its origins, only 14% of us have ever caught this virus—but that's another story), the former was only true for the small portion of us who lost our hours, our jobs, our businesses or our houses.
Most of us are doing just fine economically—which is not the same thing as enjoying a fine quality of life. A majority of us suffered little or no loss of income and saw our expenses decline significantly due to COVID. For months, we couldn't do anything, go anywhere or even buy anything—at least not until we figured out we could turn our weary eyes to Amazon.com, and realized that Uber et al were in the food delivery business.
Many of us are sitting on a pile of cash right now. And evidently we intend to weaponize it. Ask your friends in the 1% club how they made out last year.
What with growing vaccination numbers and declining viral cases, more businesses reopening, a generous infusion of federal aid and more people working (yes, jobs never actually stopped growing), the economy was expected to expand by around 7% this year, giving us the fastest calendar-year growth since 1984.
However, this last COVID surge put a pretty good crimp in our growth surge. Third quarter GDP came in at last week at 2.0%, down from 6.7% the previous quarter. So, a little less wind in our sails now as we sail into the new year. We'll have to see what it does to spending. The professional outlook is gloomy. PCE growth is what took the hit in the third quarter (That's "Personal Consumption Expenditures"), with growth dropping from 12% down to 1.6% (from $382.9 billion to $53.7 billion).
But the COVID surge is going down as fast as it went up, and people have short memories. The Atlanta Fed's GDP Now 4th Qtr. projection right now is at 6.6%. That seems aggressive. But if it holds up, annual GDP growth for 2021 is likely to be the highest since 1984 even with the bad third quarter. You don't hear people mentioning that. Maybe Christmas presents won't be quite so hard to come by after all. Then again, maybe not.
As to inflation, Stephanie Ruhle of MSNBC, who is smarter than her wardrobe or hair styles would suggest, recently pointed out on-air that, shortages and inflation worries notwithstanding, people did seem to be buying everything in sight. What did they think was going to happen to prices, she wondered? If buying does slow, so should inflation. Going out on a limb here, just like Bill Murray, but I'm predicting neither will.
As American consumers stepped up their spending, they started consuming physical goods more and services less, what with airline tickets, vacations, restaurant outings and even haircuts so inconvenient to come by. Spending on goods accelerated at an annual pace of nearly 24% in the second quarter; services spending rose at a rate below 5%, according to AP reporting.
Even poor people's salaries started going up. Check out the following, from The Economist. According to the most recent Bureau of Labor report, there are now more jobs available in the U.S. than workers to fill them.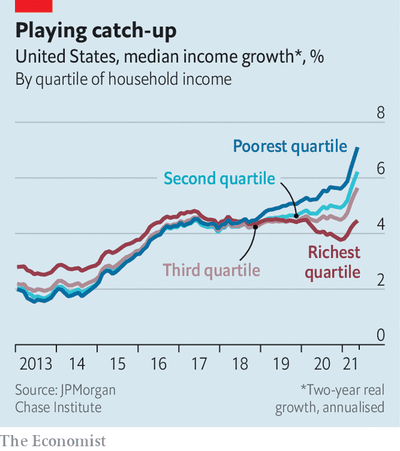 As for new-wave amateur economists who like to think the stock market, rather than economic growth, is the proper scorecard for charting an economy's ups and downs, you'll want to note the Dow Jones Industrial Average is up 16.7% so far this year, surge or no. Former President Donald Trump can take some credit for that. And surely he will.
The DJIA had an annualized return of nearly 11.8% under Trump, third-best performance going back to the 15 presidents who preceded him. He won't like this part: he trails only Obama (12.1%) and Clinton (15.9%). Calvin Coolidge, with the benefit of the Roaring '20s, topped them all with a 25.5% annualized gain.
(Cautionary note: past performance no guarantee of future results. Commit the following to memory so it need not be repeated again: Presidents don't make or break markets, the markets make or break the presidents. Shingles isn't the only thing that doesn't care.)
Latex Halloween masks that look like the lumpy molecules of the SARS-CoV2 virus remain popular in 2021, some going for as much as $79. Political costumes have lost some appeal this time around, succumbing to fictional superheroes. Oh yes, and Michael Myers (see below).
So have yourselves a Happy Halloween, guys. Spread some cash around. Probably won't run into you in the bars this year either, unless you're crawling the Panhandle. Even then, unlikely. Remember to watch yourselves on the streets. It's not just the undead wandering around out there with bad judgement and short fuses.
Love,
Dad