God Rest Ye Merry Gentlemen ... And Ladies
A
s the Grinch learned, you cannot keep Christmas from coming. And while the midnight was not exacty clear, this year, too, as well it came. Just the same, just like in so many years before stretching back pretty much into antiquity. Some would say it comes much sooner in these modern times.
The tradition of ushering in the day on the night before, i.e., Midnight Mass, a long time ago fell by the wayside in this branch of the Skelly family. No one can stay up that late; they run it now til almost 2 am. It's like spending New Year's Eve in Times Square: you're shot the whole next day.
Besides, we need to save our strength for our callow and younger family Christmas tradition of early morning tippling. Very affordable Spanish champange and orange juice. Two rounds and you feel just like you've been put in First Class on an early morning flight.
Anyway, Mama settles in for her long winter naps earlier and earlier these evenings. The kids still stay up all night, but not for church. June recently bought the cats their own fleecy blanket and by her bedtime they're already nestled all snug and, uncharacteristically, side by side (generally they share like Israel and Palestine), lost in whatever dreams cats dream in lieu of sugar plums.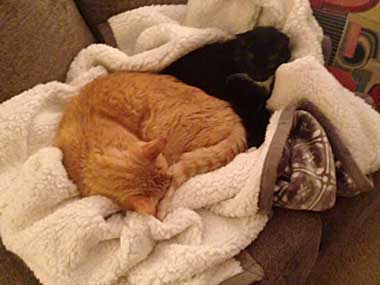 Papa spends much of each winter evening looking for a suitable cap to wear to bed.
In the Movie The Bishop's Wife, David Niven, from the pulpit of St. Timothy's, enumerates the traditional Christmas gifts of the time (1947): "You give me a book; I give you a tie. Aunt Martha has always wanted an orange squeezer and Uncle Henry could do with a new pipe." Get real, Bishop.
This year was pretty high-tech electronics. A new turntable, a new, MUCH larger computer monitor and a new coffee and tea maker that I think will scramble you an egg. And the surprise gift, Google Home. A surprise because it was an accident. JJ got two. Even in the modern world, communications within the Skelly household are none too good.
So JJ magnanimously gifted the superfluous one to mom and dad, and we've been bossing that thing around non-stop ever since. Oh yes, socks and shirts and slippers, etc. No pipes.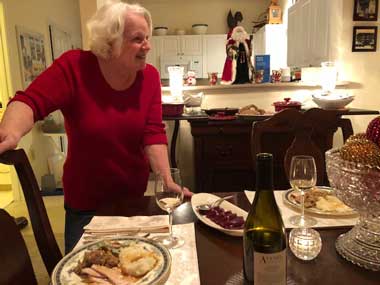 After what Cindy Lauper calls "the opening," we observed another old tradition: The Christmas Brunch, unvaryingly eggs Benedict, asparagus and hash browns. Checking my running log, in which I also record random particulars of my life, it's been our Christmas day breakfast fare since at least 1991.
In 2011 we had pancakes, no idea why. Probably just to break out of the mold for a minute. Funny, before 1991 the topic of Christmas breakfast is never mentioned. Maybe the kids were too young before that for a sit-down brunch.
Eating has always played a central role in our holiday routine. A ham for Christmas Eve last night (that varies), a turkey Christmas Day (that never varies) and on New Year's Day a roast pork with sauerkraut and roasted potatoes (that doesn't vary unless someone forces me). We generally don't have a crowd, so I usually get my way. June thinks I'm crazy. My mother said it brought good luck in the new year.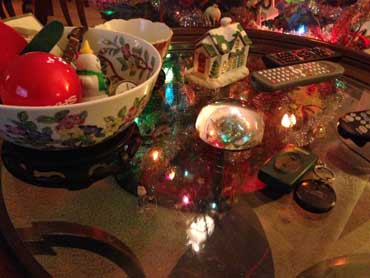 This year's Christmas Song Selection
"Christmas in Dixie"
"Christmas in Dixie" was released by the country band Alabama in December 1982. After the ways things went down in the Heart of Dixie recently, this felt like the fitting thing to do. A way to reflect on the values we share in common. And unless you just can't abide Country, a good tune with good harmony.