Step into Christmas ... Lightly, Merrily, On High, Again.
W
hat is there to say about Christmas Day that hasn't already been said? Well, that's not going to stop me.
My sad tale of Christmas Present.
Ten days before Christmas, June and John joined some neighbors at the apartment complex's annual Christmas party. The affair was packed with everybody and their runny-nosed kids, one of whom must have gifted John with a Christmas virus. It tested negative for flu, but proved a worthy ailment just the same.
Getting the tree and the decorations up proved a challenge, but by Christmas Eve things were looking up, and John retired, eventually, with visions of a festive day ahead and maybe, later in the day, even a Christmas run.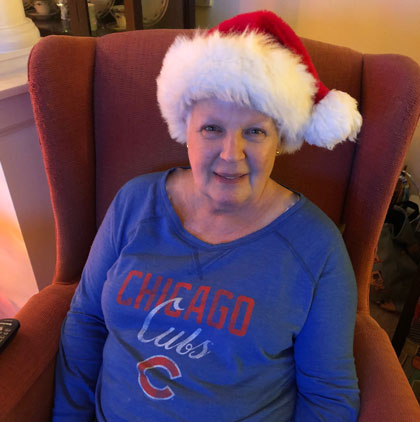 He woke up early, at 4:00 am with a headache, a throat emulating flames and razor blades, a nose stopped up like holiday traffic in the Sepulveda Pass and a fever of 101. The next two hours were dedicated to a living room chair in an effort to facilitate simultaneous sleeping and breathing. Then three more hours back in bed.
The traditional Skelly family Christmas brunch was both late and a struggle. But consciousness was never completely lost, and the Mimosas surely helped. Dinner went a little better, but at 11:45 pm after falling asleep several times during "Home Alone 2," John retreated back to the bed. Only making sure this time to down the nightly dosage of NyQuil he'd foolishly skipped on Christmas Eve, in what could only have been an overabundance of cocky holiday self-confidence.
This year's Christmas Day Song Selection
From the soundtrack to the 1884 version of "A Christmas Carol" starring George C. Scott. It sounds like it could have been penned two centuries ago. The film originally aired on television in America and was released in Great Britain in theaters. This choral rendition accompanies the production's end titles. Surprisingly this music has never been produced for commercial consumption. Lyrics by Tony Bicat; music by Nick Bicat.
Sammy's Christmas Song Videos
The first Christmas Song Selection appeared in these pages in 2007, and at least one has been included every year since. Some years featured more than one. And recently songs have been featured on both the lead page (usually Dec. 5) and the Christmas Day page as well.
The song versions are generally piped in (embedded) from YouTube and as time passes some of those songs cease to be available on YouTube for any number of reasons: copyright infringements, legal disputes, or even just a loss of interest on the part of whoever posted the song in the first place. (Youtube is a streaming service; music videos are posted there by people, like you and me, who have created accounts on the service (same as with SoundCloud, discussed below).
If you should link back to earlier years' posts on this Christmas site you may find the song you wanted to listen to is no longer available. Here's a list of earlier years' selections and an updated YouTube playlist, with links that are currently working. Since most songs get posted in different versions by multiple YouTube account owners, alternative versions are usually available. So if you want to hear a song posted in earlier years, this is the place to do it. (Easer than having to go to back to monitor and reediting earlier years' posts.)
2018
The 12 Days of Christmas
Straight No Chaser
(3:31)
Christmas (Baby Please Come Home)
David Letterman mash-Up
Darlene Love
(3:23)
Fairytale Of New York
The Pogues featuring Kirsty MacColl
(4:03)
2017
| | | |
| --- | --- | --- |
| Please Come Home for Christmas | Aaron Neville | (2:48) |
| Christmas in Dixie | Alabama | (3:33) |
2016
| | | |
| --- | --- | --- |
| Blue Christmas | Elvis Presley | (2:10) |
2015
| | | |
| --- | --- | --- |
| Father Christmas | The Kinks | (3:28) |
2014
| | | |
| --- | --- | --- |
| In Dulci Jubilo | The Choir of King's College, Cambridge | (3:16) |
2013
| | | |
| --- | --- | --- |
| I Heard the Bells on Christmas Day | Frank Sinatra | (2:35) |
| Merry Christmas, Baby | Cee Lo Green featuring Rod Stewart | (4:32) |
2012
| | | |
| --- | --- | --- |
| Early Christmas Morning | Cyndi Lauper | (3:49) |
2011
| | | |
| --- | --- | --- |
| Please Come Home for Christmas | Charles Brown | (2:50) |
| Merry Christmas Baby | BB King | (3:56) |
| Merry Christmas Baby | Charles Brown | (3:01) |
2010
| | | |
| --- | --- | --- |
| Peace on Earth/The Little Drummer Boy | Bing Crosby & David Bowie | (2:46 |
2009
| | | |
| --- | --- | --- |
| I Believe in Father Christmas | Greg Lake with The Empire State Youth Chorale | (4:06) |
2008
| | | |
| --- | --- | --- |
| All Alone at Christmas | Darlene Love with the E Street Band and The Miami Horns | (4:23) |
2007
| | | |
| --- | --- | --- |
| Christmas Canon | Trans-Siberian Orchestra | (3:29) |